The Best Round I Ever Saw
Over the course of my career I was very fortunate to play with most of the world's greatest golfers. Norman, Faldo, Price, Couples, Player, Floyd. Ballesteros, Love III, Tiger, basically every great golfer except Watson & Nicklaus. This gave me a unique opportunity to be up close and personal with these players- watching, learning, asking questions and talking.
Who of this group played the best round whilst in my company? Colin Montgomerie....
In 1996 I was competing in the Omega European Masters at the Crans Sur Sierre course- beautifully back dropped by the Swiss Alps in Montana Switzerland.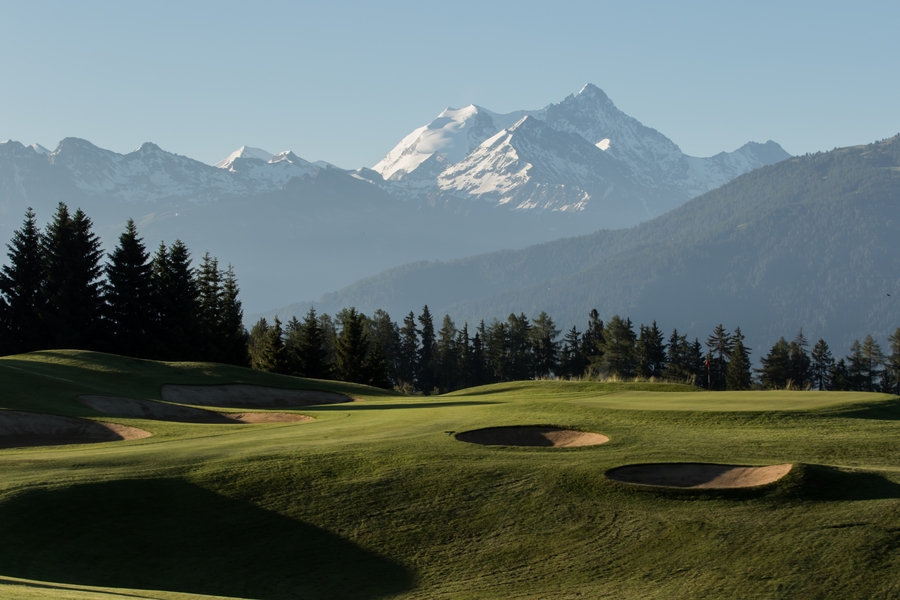 After 36 holes myself and Monty were inside the top 10 sitting together at 6 under par. We were drawn together in the 3rd round and it was the most incredible round I have seen anybody play as far as ball striking.
Crans is by no means a long course but do remember in 1996 the golf ball was still basically balata, which produced more spin and shorter distances. No-one could really over power a course although the par 5 holes were all within reach with two good strikes and the short par 7th hole- sitting right on the edge of the Alps- was driveable by everyone in the field. So being inside the top 10 after 36 holes at only 6 under par shows the course was by no means a push over.
Starting on the very first hole- a par 5- Monty showed how fine a form he was going to be in that day. After a nice drive he rifled a 3 iron straight at the hole and dropped it in 2 feet from the cup. A tap in eagle start. Same result on the 2nd hole- a par 4 where he stiffed a mid iron.
This went on all day. When it was all said and done he had shot a 10 under par 61 and never holed a putt longer than 6 feet. It was uncanny. Basically on more than half the holes he would walk up to the green and tap in a birdie putt - often before I even had a chance to putt. Step in- Tap in.
Amazingly he would shoot 61 and only manage to par the last four holes. 59 or even better was definitely on the cards but maybe he sensed that and couldn't reproduce his finest right down the stretch.
Hole 15 was a reachable par 5. Hole 17 and hole 18 were both wedge second shots. The only tough hole in the closing four was the long par 3 16th where a 3 or 4 iron was generally the club of choice.
I myself had a reasonable day shooting a 2 under par 69 but I honestly felt like I had player horribly compared to the stripe show Colin had produced.
To top it all off Montie would go out and shoot a 63 in the final round and win the tournament quite easily with a record score of 260 - 24 under par.
It was really a travesty that Montgomerie didn't get to win one of golf's Major Championships. He certainly had his chances but somethings are just not meant to be.
His record was phenomenal however. Winning the money list on the European Tour seven years in a row- against the Woosnam's Faldo's Seve's Langers of the world really proves just how good he was. His Ryder Cup record -especially in singles- was also Herculian.
Often misunderstood because of his sulky bitter nature that the fans viewed, Monty was in fact a great guy to play with and talk to. A lot of the facial expressions and self negative talk was really just a sarcastic demeanor he had. I would have chosen to play with him one hundred times over some of the more celebrated crowd pleasers.
What can we learn from Colin Montgomerie's swing?
The first thing that comes to mind is the tempo. He never swung with excessive force or brute strength. He knew his capabilities. He liked to drift the ball ever so slightly left to right and he played well within himself.
The right arm never straightened until well after impact. He always swung his hands to a nice high extended finish.
Watch this video below to show how nicely Montgomerie kept his arms and hands out in front of his body. People always suggested he had an upright swing but as all my students and followers know and will see- the shaft approached from 430 path and he kept a nice simple arc to his action.
Colin Montgomerie was just another in a long line of ball striking machines who adhered very much to the principles I admire and teach and pass onto my students. History shows he was one of the best.