The Zone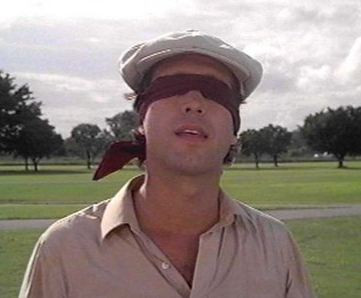 The Zone- that airless floating indescribable place we wander off to when we seem to have our best rounds of golf. What is the zone? And HOW can we visit it more often in our journey to better golf?
Let's change the word "Zone" to the word "Comfort" instead….because that is what it really is.
There is a certain type of comfort in our ability that allows us to slow down and analyse and make better decisions for better results. Comfort comes from confidence. Confidence in one's ability to be able to produce the necessary shot that is presented before us. Obviously good practice and the experience of practicing and performing well struck solid shots to a specific distance and target spread out over the vast landscape of shots we may need throughout a round of golf will help us have at least one hand on the Zone area. So we can never under estimate the practice it takes to work on and understand how to hit ANY shot.
The golf Gods really don't care too much whether they enhance or ruin our day much either. Bad bounces, bad lies, gusts of wind all pop up at inopportune times to test us mentally and physically in our pursuit of par. How we handle these have a direct result on our teeter totter between finding the zone or running away in the opposite direction into an anxiety invoked state of "why me" when we are challenged with these breaks presented.
Gary Player was an absolute 'master' at giving himself every opportunity to reach or come as close to the zone as often as possible. I have been fortunate to spend a little bit of time with Player and besides the golf lessons I learned from him, the biggest lesson I learned from him was ATTITUDE. There was no shot he didn't like. No course he didn't enjoy. If he was in the company of people who started talking negatively he would politely excuse himself so to not be infiltrated with poor thoughts. He wanted everything around him to be a positive experience so he didn't have to dig as deep down into his heart and trust to reach his optimal performance level
I have reached the 'zone' a few times throughout my career, interestingly enough the ones I vividly remember were three separate occasions ALL at the Australian Masters. Obviously I have always played well at Huntingdale GC in that event so comfort breeds confidence. Step one covered.
In 1993 before the final round as I was driving to the course I was cut off, almost run into by another driver, caught in a traffic jam, wedged in between slow drivers- everything was not what you would like before the final round of a big tournament- however none of it phased me. I felt a distinct calm that allowed me to deflect all of that and smile and drive on without a care in the world. Five hours later I had hit all 18 greens in regulation and shot a 7 under par 66 and won a playoff over Peter Senior on the first playoff hole. That was a relaxed zone where nothing was going to faze me and I was calm and collected and full of good decision making right throughout the day.
In 1998 I fell into the confidence/comfort zone. I was playing really well and knew I was going to win. I didn't care who was playing. I had the confidence in my ability that there could only be one victor that week and it would be me. So confident was I that at the dinner for past Masters Champions two evenings before the start of the tournament during my interview on stage I told 400 people I was going to win the event. Two days later I shot a course record 10 under par 63 in the first round and closed out the tournament with a record 72 hole of 24 under par breaking Greg Norman's record by 5 strokes.
In 2004 I fell into the determination zone. I hadn't played the Masters since my victory in 1998 but had played very well on The US Nationwide Tour that year finishing 12th on the money list, having a 27 round stretch of shooting par or better in every round and winning my PGA Tour card back for the following season. I was thoroughly determined to come back to Australia and win the final event of the season. Being in the middle of a torrid divorce battle at the time only hardened me up to be a warrior and come through wearing the armour at the end of the week. Things went as planned until the 72nd hole where I made one bad decision of club selection and ended up double bogeying to lose by one after stepping onto the final hole one stroke ahead. With everything revolving around me during that period I still rate that (and in fact all of 2004) as one of my finest achievements of my career even though the result didn't end up with me holding a trophy.
So as we can see there can be varying circumstances that allow us to edge closer to the 'zone' whether it be number 1 confidence & comfort in our ability to perform, or relaxed and happy or even the tenacity to prove the doubters wrong. So when you drift off into this state of mind make the most of it, embrace it and enjoy it…for it doesn't come along as often as we would hope for.